Top 5 Tasks for June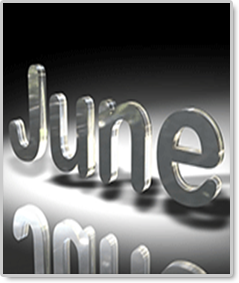 If you only do five home care tasks in June, here are the ones that we recommend you do, that will help keep your home safe, looking nice, and things operating properly.

Security System

If you have a home security system, then in June (before the summer vacation season) we recommend that you do some basic routine maintenance for your home security system. First, you should contact your security monitoring company and confirm with them that they have the correct contact information for you and the correct password. You should also check the expiration date on your system's backup battery, and perform tests to confirm the proper performance of your system. And lastly, you should confirm that all family members know how to properly use all of the features of your security system.

To learn more about taking care of your home security system, you can see the Security System section of our Home Care Library.

Late Spring Lawn Care

Early in June is a good time to apply late spring fertilizer and weed control (helpful accessories: plant fertilizers; grass and weed controllers; weed trimmers). You can read our lawn care suggestions here: Late Spring Lawn Care Guide. And you can read our related lawn care articles here: Lawn Care Articles.

Personal Computer Maintenance

June is also a good month to remind yourself to perform the necessary monthly routine maintenance for your home computers. Items that should be done on a monthly basis include: backing up your hard drive; updating your virus protection; defragmenting your hard drive; and testing your surge control devices (helpful accessories: external hard drives; anti-virus programs).

For additional information on caring for your personal computer, you can see the Personal Computer section of our Home Care Library.

Dishwasher Maintenance

Every couple of months it is important to treat your dishwasher for scale build-up. If you are not doing this routinely, then at least once a year you should still check your dishwasher for scale build-up, and treat it accordingly (helpful accessory: dishwasher cleaners).

For tips on how to treat the types of scale that you might have in your particular dishwasher, you can see: Dishwasher Routine Care

Fireplace Maintenance

And finally, if you have a traditional wood-burning fireplace, June is a great month to have your chimney cleaned and inspected (helpful accessory: creosote removers). The reason to do this at the beginning of the summer is because if any significant problems are found, then you will have plenty of time to get bids and get the work completed before you start to need your fireplace again in the fall.
Related Articles . . .

Turning Your PC into a Home Security System
Here are some examples of how various free softwares can turn your home computer into a high-tech home monitoring system, that can detect motion, automatically record what is happening while you are gone.
more ▶

Late Spring Lawn Care Guide
The needs of your lawn in late spring are very different than early spring. This article and video explain what, why, and how to fertilize during late spring for a healthy lawn.
more ▶

Important Care for Your Home Computer
Your home computer, like any important appliance in your home, requires routine maintenance to keep it operating reliably and at peak performance. This article outlines what you should be routinely doing for your home computer.
more ▶

25 Dishwasher Tips
Your dishwasher uses energy for hot water to clean your dishes and for an electric heating element to dry them off. This article and video give you 25 tips that will help you to reduce energy, improve performance, and extend its useful life.
more ▶
Facts About Gas Fireplaces
A gas fireplace can be a very clean, energy-efficient way to heat your home while adding a special charm. Whether you have one, or are thinking about getting one, here are some safety tips and maintenance tasks that you should consider.
more ▶